In today's post, we are going to show you that you CAN wear black to your next event. Whether it's a wedding, baptism or communion without looking like a character out of a Tim Burton or Wednesday Addams movie. And although it may not seem like it, wearing black is easier than you think. You can play with contrasts with your accessories and your shoes and succeed in your next celebration!
Being the perfect guest in black has many advantages. Black stylizes your figure and makes you feel sexier, today's celebrities show us on the catwalks or red carpets without any fear and you can too! And this color is starting to gain prominence little by little in guest looks, what do you think? The INVITADISIMA team of stylists love it and even more for evening events!
TIP: We do not recommend black for morning events in hot weather, unless the celebration is somewhere in the north of Spain, if it cools down you can wear it without any problem.
With black you can play in many ways and when we think of a black dress, we imagine the typical dress from head to toe opaque. But it is not so, you can bet on a dress with transparencies, with lace or even with glitter and the result will be outstanding! As a closet background to have an elegant black dress is essential. We can assure you that the total black will always be a safe bet for your events and all fashion brands take in their collections at least one dress or a two-piece, in addition, you can reuse it at Christmas time! Combine it with different accessories and it will look like a new dress!
It is the color of elegance and sophistication par excellence, and just as the bride's white dress is a "must" at a wedding, why not a guest in black? We support this style and we want you to feel as sexy and comfortable as possible, if it is your color, wear it, don't hesitate! Of course, read the invitation carefully in case it doesn't say otherwise. We must always be aware of the dress code in our events and if we have a wedding to what the bride and groom want.
Combining a black dress is very simple, you do not have to follow the rule of total black to the letter, we advise that whatever your dress is: short, long, two pieces … bet on contrasting accessories, a red always works, and metallic? of course! Always make sure that the final combination has the desired harmony. If the event is in the morning, it is better to go for more sober tones such as pastel or nude tones. If you combine a headdress or a knotted headband, along with a sash and strappy sandals, you will be the perfect guest!
Here are the best designs that we have on our website of guest: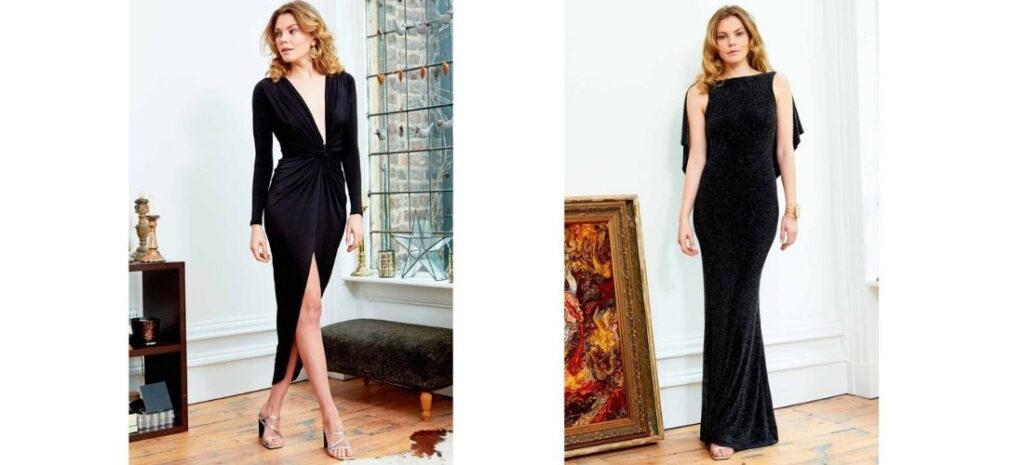 Long black shiny party dress with cape and plunging neckline
Long knotted party dress with front slit and neckline
If you liked this total looks section, don't despair, we will have more posts like this one very soon! If you want to write us to bring out your favorite color and you need our help, the iNVITADISIMA stylist team will come to the rescue! Let us know in the comments box below, we'll be happy to hear from you!