We all understand that looking for the perfect garment is always a challenge, and the equation becomes more complicated when we want to be fashionable and we don't know what trend is in this year or the type of event we are going to attend; if we need a midi, cocktail or long party dress or the color I should wear. But don't panic, in this post you have all the answers!
In this blog post, INVITADISIMA's team of stylists will help you to get rid of those doubts that create so much stress when looking for the guest dress of your dreams.
Ready? Make yourself comfortable…
Before we start with the dresses, let's discuss some general color rules. First of all we should avoid black for daytime events. In afternoon events it would be accepted but we could look for a better option, however for evening events it is a perfect color. In weddings we should avoid white since the protagonist should be the bride and she will wear white. We also have to be careful with very light pinks as they can look like white.
Now, let's start with cocktail dresses; this type of dresses are cut at the knee or a few centimeters above or below it. These dresses are ideal for morning events as they are shorter and more daring. Regarding the color, we can choose our favorite (except black and white), although we recommend cheerful plain colors or prints.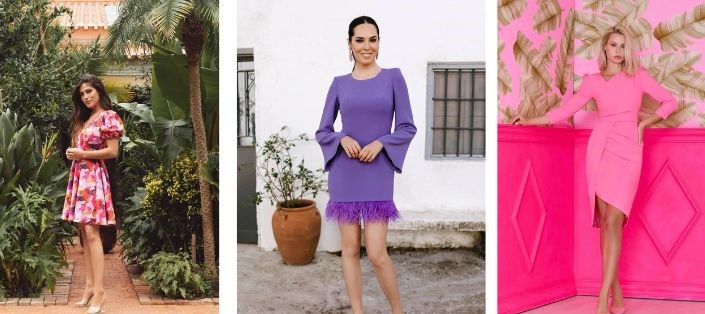 Link to the patterned dress , Link to the purple dress, Link to the pink dress
Secondly, midi dresses; they reach above the ankles but always below the knees. This dress is always a success because it is perfect for morning and evening events. The colors are totally free respecting the protocol.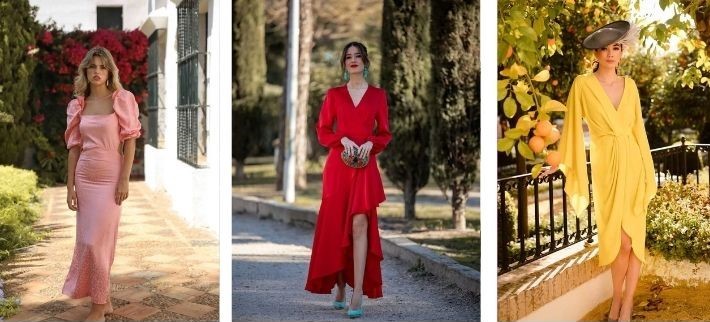 Link to the pink dress, Link to the red dress Link to the yellow dress
Let's go for the last type of dress, the long dresses; it should always be below the ankle. These types of dresses are always for evening events (unless you are the godmother or the sister of the groom or the bride that every day the protocol is more flexible). It is true that these dresses are beautiful and we often sin to wear them in day or evening events, but the right thing to do would be to wear them only in evening events. On this occasion it would be correct to use the color black.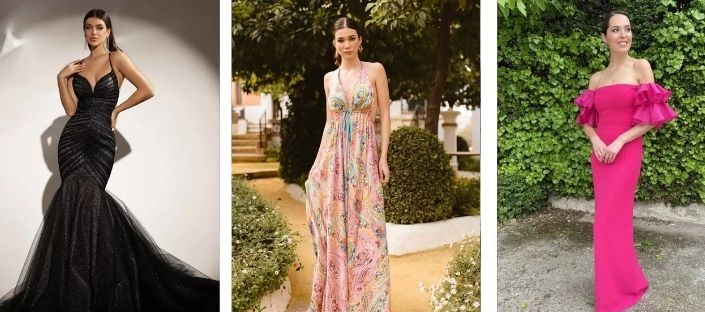 Link to the black dress,, Link to the patterned dress, Link to the pink dress
Leaving the dresses another type of look for guest events are the jumpsuits, suits or sets. These can be used for all kinds of events both day and night but you must always keep in mind the color codes. Here we leave you some models that we love.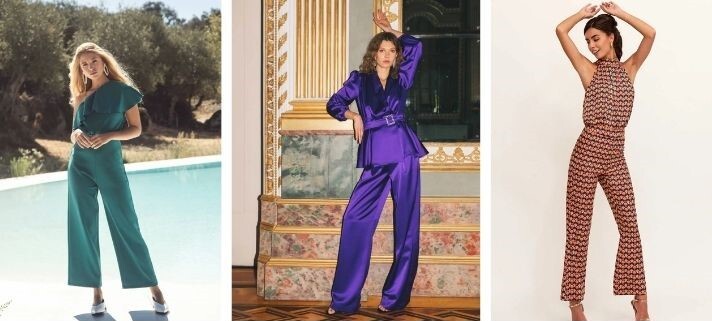 Link to the green jumpsuit, Link to the purple suit, Link printed set
We hope we have solved all your doubts so that you can always wear the guest look! Remember, if you have any doubts and you want our team of stylists to help you for free, send us an email to estilitas@invitadisima.com with the SOS STYLIST subject. We will be happy to help you become the perfect guest.
From INVITADISIMA we will continue to comment on the news in our blog and in our social networks @invitadisima.shop. Follow us on Instagram, Facebook, Tik Tok, Pinterest and 21buttons!